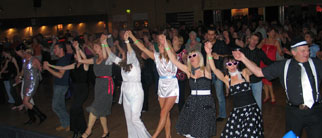 Welcome to our fun line dance breaks
Double H Promotions is one of those well known names by Linedancers everywhere!
It is synonym of quality, fun and mayhem and perfect events. Throughout its sixteen year existence and after hundreds of events it is a testimony to Double H that the dancers who have been lucky enough to enjoy the ultimate in linedance travel always return. Founded by Ray Harvey and Eileen Henry, Double H has always had a very simply philosophy. Quality, service and true personal touch are the orders of each event, and that is truly what Double H is all about. The company has never changes its mantra and today the vision is as clear as it was ten years ago.
(Extracts from Line Dancer Magazine)
Double H Promotions, PO Box 465, Dover, CT16 9FE
Telephone: +44 (0)1304 330811
Email: This email address is being protected from spambots. You need JavaScript enabled to view it.
Please also visit www.daysgoneby.biz